Smartest Guys NOT in the Room
The Smartest Guys NOT in the Room
When
The New York Times'
Gary Rivlin
asked a slot machine designer
at International Gaming Technology if he ever plays the machines he builds, "he acted as if I had insulted him. 'Slots are for losers,' he spat." The actions of the I.G.T. employee are not an isolated incident. Predatory gambling is the only "product" or "service" where most of the people who own it and promote it don't use it and don't want to live near it. It's like the executives of the failed energy giant Enron – infamously known as
"The Smartest Guys in the Room"
– standing in front of their employees assuring them their retirement funds invested in the company are a good bet,even though they were selling millions of dollars of their own stock because they knew it was a loser. The owners and promoters of predatory gambling are "The Smartest Guys
Not
in the Room." While "The Smartest Guys" don't lose their own money in casinos, millions of American citizens like Sandy Hall do and their stories are much like hers. Hall had the courage to be interviewed as part of a
2011 60 Minutes investigation
into slot machines. Her life was reduced to almost nothing because of a slot machine operated in partnership with government, promoted by government and "regulated" by government. Her enormous gambling losses were simply considered part of government's revenues. While slot machine designers literally spit and call people like Hall "losers," the most disturbing truth is government sponsorship of casinos and lotteries produces unfairness and inequality in American society. Watch the brief video below and right beneath it, read the full, jaw-dropping list of "The Smartest Guys NOT in the Room:"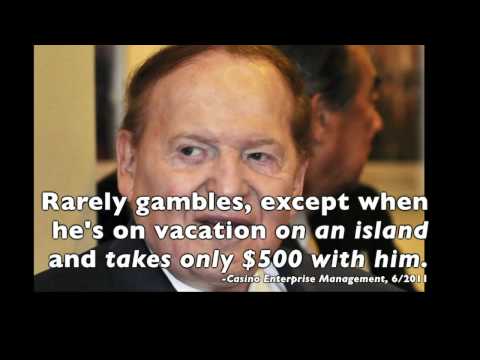 Gary Loveman, CEO of Caesars (formerly Harrah's)
who was paid $40 million in one year
for encouraging millions of Americans to lose their money during this severe financial crisis, does not gamble. As
Wall Street Journal
Christina Binkley reported in her book
"Winner Takes All"
(Pg. 177): "There was a fundamental disconnect between Loveman and his customers. The professor believed that people were gambling for recreation, so he didn't expect them to feel so upset about losing their money. He believed gambling was games. Loveman isn't a gambler and has never been a gambler. He can analyze customers' behavior but he doesn't get them deep in his belly."
Donald Trump, one of America's most extravagant and well-known casino owners
New York Magazine
article titled "Fighting Back: Trump Scrambles off the Canvas" from November 9, 1992 (page 42): "He [Trump] does not gamble."
Steve Wynn, the billionaire casino operator
60 Minutes interview:
"The only way to win in a casino is to own one. And he says, even when people are lucky, they usually gamble away their winnings. "Have you never known in your entire life a gambler who comes here and wins big and…walks away?" Rose asked. "Never," Wynn replied. "You know nobody hardly that over the stretch of time is ahead?" Rose asked. "Nope," Wynn said. Watch
the whole interview here.
Sheldon Adelson, the billionaire casino operator who leads Las Vegas Sands
In
this June 2011 story
by
Casino Enterprise Management
, Adelson, the casino billionaire, says he gambles only
on vacation
when he is
on an island
and takes
only $500
with him - a far cry from those local citizens who are now gambling at his Bethlehem (PA) Sands Casino
between 150 to 200 times a year.
Here is an excerpt from the interview: I wondered if the majority shareholder of LVS is a gambler himself. He responded, "Yes and no. I am not a gambler commensurate with my ability to gamble, but I like to gamble. When I lived on the East Coast, I used to select an island to visit based on whether or not they had gambling. I wouldn't visit an island that didn't have gambling, because after dinner I like to be entertained a little bit. So I take $500 to $1,000 and go down to the casino and play." His favorite game is blackjack, and when asked if he was good at it, he chuckled mischievously and simply said, "No," but adding, "I enjoy it, and that's all that matters. Gambling is not to win money. Unfortunately, there are people in the world who believe that it is, and that it's a war between them and the house. They feel that they must win or they've lost the war. It has an effect on how they feel and who they are. It's never gotten to me like that. I'm what they call today a mass-market player. I was never a high roller."
Jim Murren, CEO of MGM Grand
At MGM Grand, Murren leads one of the world's largest casino operations. He is also
a strong proponent of legalizing online gambling
, especially in social media. But how likely is this multimillionaire to lose his own money gambling?
The New York Times
reported in
this December 24, 2006 story
: "Murren doesn't play the tables or slot machines."
KT Lim, Chairman of Genting, a multibillion dollar casino operator
has helped to drive well-financed, relentless lobbying efforts
to allow casinos in several states including New York, Florida and Massachusetts. Worth close to a billion dollars, does Lim regularly lose any of his personal fortune on his own "product?" According to
The Business Times Singapore
on December 2, 2006,
Lim said: " Life is full of gambles but I'm not a hard-core gambler."
Neil Bluhm, another American billionaire casino operator
The Chicago Tribune,
July 17, 2011: As Neil Bluhm walked through the sophisticated high-roller lounge of his newest casino Thursday, I asked him, "Do you ever gamble?" "No," he said, prompting his gaming chief to remind the Chicago billionaire about a trip to Las Vegas last fall. So Bluhm supplied a different answer. "I gamble putting one of these deals together," he said with zeal. "I spent millions of dollars not knowing whether we were going to have a casino. So do I gamble? Yes."
Stanley Ho, billionaire developer of Macau's gambling empire
found Ho had extensive ties to organized crime in China
and their suspicions led MGM Mirage to agree in 2010 to sell its half of Atlantic City's top casino — rather than abandon the lucrative Chinese market, where it has a joint venture with Ho's daughter.) Ho was interviewed by
CNN TalkAsia
which aired on October 2, 2004.
Here is the full interview
and below is what he told the interviewer about his frequency of losing his own money on gambling: LH: Welcome back to TalkAsia. Some call Stanley Ho the patriarch of Macau. That's because in the past forty years, he's developed some of Macau's most famous landmarks and key infrastructure, including the main bridge and international airport. In recognition of his contributions, the government has named an avenue after him. But I can't help wonder what the man behind the businessman, is really like. SH: What am I like? Well I am very normal; the only difference is I don't gamble. LH: For sure right? SH: I don't gamble at all, all my life. I am only interested in sports. LH: Even the king of gambling? SH: Well I enjoy this name, but to be very frank I don't deserve this casino king, I don't gamble, how can I be the casino king?
David Cordish, head of The Cordish Company, a multi-billion dollar conglomerate that has developed casinos in several states
makes more than half its money from gambling addicts
and spends millions of dollars
marketing to gamblers who chase their losses

-
those gamblers who lost the money they came with and then hit the casino ATM to withdraw their savings to lose even more. Yet in this
Baltimore Sun Magazine
article, Cordish reveals he is barely a gambler himself. If all his casino patrons gambled like he does, his casino would be out of business: "When I go to gamble, I take $100. When the $100 is gone, it's gone. If I get ahead, at some point I quit. I think that's how 99 percent of the world gambles. [Gambling] is just a form of recreation."
Richard Fields, a billionaire casino operator who has intensely lobbied for and operated casinos in several states
Fields was a co-developer of the Seminole casino in Florida and as part owner of Suffolk Downs horse track in Boston, has been a driving force for casinos in Massachusetts. Yet in a jaw-dropping admission to
The Boston Globe
on January 20, 2013,
Fields confessed that he has "never gambled."
Fields went on: "It's so funny—I just don't do that. It's not for any reason other than it's not in my psyche. I go to Vegas or any of these places and I'll go through the projects and find them really interesting and exciting. But I'm a developer and sort of an entertainment guy, and I'll look at this from the standpoint of how do you make sure people have a good time? But it never occurs to me to gamble. Isn't that interesting?"
William "Si" Redd, nicknamed "The Slot Machine King" whose main claim to fame was inventing the International Game Technology video poker machine
"the King of Slots"
for designing the modern slot machine, did not even play the machines he invented according to
this excerpt
in
The Las Vegas Sun
from June 25, 2001: Si Redd says he listens intently to, and reads reports of, the gaming device that has become known as the "crack cocaine of gambling" because of its highly addictive nature. "Of course it hurts me when such things are said, I guess because it is kind of the truth," Redd said. "I never intended it to become that way, and I never could have dreamed of how successful the video poker machine would become. Although he is a member of the Gaming Hall of Fame, Redd today has little to do with gaming. He sold his interest in IGT as an octogenarian and opened a rival company, International Technical Systems Inc., which is no longer in business. He does not even play the machines he invented. Redd's concept of the 99 percent payout on dollar slots drew millions of people who otherwise never would have put a coin into the one-armed bandits. All the while, Redd had to overcome his knowledge that his mother did not approve of the fortune he was making off customers of the gaming industry. "I kept sending her more and more money, yet she would just give it away to people as poor as she was," Redd said.
Frank Fahrenkopf, former President of the American Gaming Association
New York Times story.
Yet despite being the lead spokesman for the predatory gambling operators of America, here is what he had to say later in the same story about his trade's primary money maker: "Fahrenkopf is reportedly paid in seven figures to praise all things casino, but he can't seem to help taking a poke at the slot machine. He views the transition from table games to slots as symptomatic of the dumbing down of American life. Playing craps means learning a complex set of rules. Blackjack may be easy to learn, but it still requires skill and concentration, and it's not uncommon for the novice player to feel stupid in front of strangers. 'I don't know if it's the education system, or maybe it's that we as a society have gotten intellectually lazy,' says Fahrenkopf, who headed the Republican National Committee under Ronald Reagan. 'But people would rather just sit there and push a button.'" Perhaps this is one of the reasons why Fahrenkopf shockingly
said he would oppose a casino
near where he lives in Virginia.
The Employees at International Gaming Technology (IGT), one of the nation's biggest designers and producers of electronic slot machines
The New York Times Magazine cover story
written by Gary Rivlin, May 9, 2004: "Most of the people I met inside I.G.T. told me they never played slot machines on their own time... Even one corporate P.R. staff member couldn't resist shaking her head in disbelief as she described scenes of people lining up to play a new machine. ''It was unfathomable to me,'' she told me.
When I asked one I.G.T. artist if he ever plays, he acted as if I had insulted him. "Slots are for losers,'' he spat, and then, coming to his senses, begged me to consider that an off-the-record comment.
"
Jan Jones,  Senior Vice President of Communications and Government Relations of Caesars (formerly Harrah's)
a column
written by
The Providence Journal's
M. Charles Bakst, May 13, 2004: Former Las Vegas Mayor Jan Jones, a top aide at Harrah's Entertainment, the Narragansetts' partner, said yesterday that she's offended by the notion that casinos are filled with "unhappy, depressed, sort of hypnotically drugged people." Jones said, "Sometime I'll take you to the movies in Las Vegas. I want you to look at the people sitting in there. And, you know, some of them are grossly overweight and a lot of them don't look that happy and some of them aren't as attractive and well dressed as they should be. But should I make assumptions about all moviegoers because some of them aren't what you would expect?" Jones said she doesn't gamble. "I'd rather spend my money on shoes. And houses." (She has three homes.) So she wants you to gamble, but she's too smart and thinks you're stupid? Jones laughed, "That's like saying I like to go out and buy Manolo Blahnik shoes but you don't. Does that make you stupid or does that mean you just aren't into shoes?"
Christine Reilly, Senior Research Director, National Center for Responsible Gaming
this story
that appeared in
Salon
titled  "Gambling with Science: Determined to defeat lawsuits over addiction, the casino industry is funding research at a Harvard-affiliated lab" on June 16, 2008, Reilly said: "I play a slot machine for ten minutes and I'm so bored I want to shoot myself."
New York Governor Andrew Cuomo, who made legalizing casinos a top priority of his administration
has tried to brand himself
as a man with "a vision for a progressive future" yet legalizing commercial casinos has been a top priority of his administration.  Cuomo doesn't lose his own money gambling in casinos, though. From
The New York Post:
"Cuomo himself yesterday revealed that he last gambled in a casino "many, many years ago — and I lost." He also told reporters he's never laid down a wager at any of New York's nine racinos and hasn't played the state-sponsored lottery in 'months.'"
Former Pennsylvania Governor Ed Rendell, a relentless advocate for the legalization of casinos and other extreme forms of gambling in his state
he famously called the 60 Minutes team "idiots" and "simpletons"
after being pressed by Lesley Stahl to explain why government is creating new gambling addicts and pushing people into deeper personal debt in an ultimately failed attempt to fund public services. Regarding whether he frequently loses his own money in the casinos he helped create, here is what Rendell said in a story that appeared in
The Erie Times
on February 7, 2008: On criticism from anti-gambling groups who say he doesn't go into the state's casinos: "He's ashamed of what he's created," Rendell said, quoting them. But Rendell said he would also be criticized if he were to visit the casinos.
Former Florida Governor Charlie Crist, a central figure in expanding casinos in his state
one of his top priorities.
Does Crist lose his own money on government's gambling program? The answer is no, according
to this story excerpt
from
The
Orlando Sun-Sentinel
, October 27, 2009: He laughed. "I don't gamble," he (Crist) said.
Delaware Governor Jack Markell, an active promoter of legalizing sports betting in his state
ESPN The Magazine
about his gambling habits in a column written by Chad Millman: "A prediction: Sometime soon—after Tim Tebow brings peace to the Middle East but before the Lions become contenders—you'll walk into your local deli and bet on sports. You won't get pinched. You won't go on the lam if you can't pay up. Seriously. It's a lock. For this, you may have Jack Markell to thank. Which is funny because Markell, Delaware's governor-elect, is not a betting man. Hasn't been to Vegas in 15 years, can't remember ever playing one of his state's slot machines, never gambles on football or basketball. And yet, soon after he's sworn in on January 20th, there's a chance he'll start an avalanche of unprecedented gambling reform, and become the betting man's biggest hero since Charles McNeil invented the point spread."
Rhode Island Gov. Lincoln Chafee, an active promoter of expanding casinos in his state
Chafee told WPRI Channel 12:
"I don't go to the Twin River myself but having toured it, when you see the acres of machines in there, you think what's the difference between live tables and what's here? So I don't think it's a significant change from what exists there." Chafee's position on government's predatory gambling program is even more of a head-scratcher when you look at the position he posted on his own campaign website. He fully acknowledges gambling is an addictive behavior yet he says he supports offering more extreme forms of gambling if "business" gets siphoned off to Massachusetts. You have to see it for yourself to believe it
(click on the screen shot below taken
from his website.
It reads:  "Chafee considers gambling an addictive behavior, but says he would support turning slot parlors in Lincoln and Newport into full-fledged casinos if Massachusetts builds casinos that siphon business from Rhode Island.")
Ohio Governor Ted Strickland, the man who ushered casinos into Ohio
in their Social Principles.
Congressman Joe Barton, the lead sponsor of the bill to allow predatory internet gambling
he does not gamble online with his own money.
He has no personal experience with the incredible speed, the intensity of the high, the frequency of play, the enormous amount of money lost and the highly predatory marketing involved with internet poker.
Congressman John Campbell, an outspoken co-sponsor of legislation to open the door to commercial internet gambling
He has said
that legalizing and regulating online poker would create jobs in the U.S. But while he is working hard to allow gambling interests to target his constituents through the internet, Campbell
has acknowledged he does not lose his own money on gambling.
Former Congressman Barney Frank, a vocal supporter of legalizing online commercial gambling in Congress
The Boston Globe,
July 13, 2008: "Barney Frank does not play poker or blackjack. The games bore him, and he thinks he would be terrible at them even if he tried. He's never played a slot machine, doesn't go to casinos, and has never tried to gamble online. "I wouldn't place a bet with your money," he said. And yet, over the past year, the Democratic congressman from Newton has quietly become a cult hero for poker players and the online gambling industry - the pit boss of poker politics - by championing their cause on Capitol Hill. "
Congressman Ron Paul, a lead sponsor of legislation to legalize online gambling across America
this excerpt
from a profile in
The New Republic
, December 31, 2007: "I don't gamble, but I'm the gambler's best friend," he says, boasting of his support for online casinos.
Thomas E. Perez, current U.S. Secretary of Labor and former Maryland Secretary of Labor
Civil Rights Division
of the
United States Department of Justice
and is now the U.S. Secretary of Labor. Does Perez lose his own money on government's slot machine program? According to
The Washington Post,
November 12, 2007: Prior to studying the issue for O'Malley, Perez said he had never been to a gambling parlor. "This is not how I'd choose to spend my entertainment dollars," he said. Not surprisingly, Perez has left off his leading role in legalizing slot machines in Maryland
on his Wikipedia page.
Illinois Senate President John Cullerton
on a Chicago news program
from Sept. 19, 2011, Cullerton responded: "I'm not."
Illinois House Speaker Mike Madigan
this Illinois newspaper
from November 2, 2007: "I don't gamble, I don't go to casinos, I don't go to racetracks, I don't play cards, I don't bet on sports. Gambling is something to be avoided – by everybody."
Illinois State Representative Lou Lang
this Chicago News story
from June 24, 2011: "Mr. Lang is not a regular gambler but enjoys betting occasionally."
California State Senator Rod Wright, the chief proponent of legalizing internet gambling across California
Wright said:
"I am the consummate shopper. I'm not a gambler. I need to provide a vehicle by which you (operators) can make money and I can get money (for the state)."
Massachusetts Governor Deval Patrick, who made legalizing casinos a top priority of his administration
State House News
excerpt from November 22, 2011: "Patrick said he used to take his mother to gamble at Foxwoods and recalled spending time at a Las Vegas casino when he worked at Coca-Cola. "It was glamorous," Patrick said, remembering the meals and taking in a Cirque du Soleil show."
Massachusetts House Speaker Robert DeLeo, a leading proponent of legalizing casinos in his state
a WCVB TV interview
on September 25, 2011, the 61-year-old conceded that "I've only been in a casino twice in my life and one of those times was for a boxing match." While many of his constituents will be losing money at casinos more than 200 times a year
like what is happening in Philadelphia
, how likely is he to lose his own money at one of the casinos he has pushed so hard to legalize? According to
this Boston Globe story
from April 11, 2010: "But DeLeo learned other lessons from his father, too, ones he has not spoken about as publicly. Even though Al DeLeo loved the track, he recognized its dangers, to the point that he forbade his son from gambling. Robert DeLeo remembers one occasion when he bet on a horse, won, and bragged to his father. "I was as proud as a peacock," he said in a recent interview. "I said, `Hey, Dad, I won a race.' And he looked at me and said, `You're going to lose too many. I don't want to hear it. Don't even go there, pal.' "
Massachusetts State Senator Stan Rosenberg
The Ideas section
of
The Boston Globe
on January 10, 2010 titled "Inside Man": Inside Man: An interview with Stan Rosenberg, the State House's casino expert IDEAS: Do you ever gamble? ROSENBERG: Nope. Never put a coin in a slot machine. Well you don't put coins in them anymore, you play by putting a card into the slot. I buy a lottery ticket every now and then when the jackpot gets really large, just for the fun of it. But no, I'm not a gambler. IDEAS: Not even a nickel slot machine? ROSENBERG: I don't even play poker with friends. When we play card games there's no money involved. The only game I've played with money is Monopoly.
Former Massachusetts Lt. Governor Tim Murray
on the trumped-up narrative that some citizens are already going-out-of-state,
how frequently does Murray himself go out-of-state to lose his own money at the Connecticut casinos? In an interview with
WUML
(Lowell) radio on September 17, 2007 he said:
"I have not been down to Foxwoods or Mohegan Sun."
Massachusetts State Representative Joe Wagner
The Boston Globe,
Sept. 15, 2011: "Personally, expanded gambling, I suppose I could take or leave,'' said Representative Joseph F. Wagner, a Chicopee Democrat and the lead sponsor of the bill, who confessed his gambling experience is limited to the "occasional game of Keno.''
Stephen Crosby, Chairman of the Massachusetts Gambling Commission and the man who will oversee the construction of the state's casinos
The Wall Street Journal
on July 30, 2010 he "thought it was a regressive and thoughtless and unproductive way to raise money." He later changed his position because "eventually I decided that as the need for money got greater and greater, it's a little silly to be making a point of principle when you've got gambling casinos all around you." OK, so he thinks it is regressive, thoughtless and an unproductive policy. But at least he's a gambler, right? The answer is no, according to a
State House News
story from December 13, 2011: "Aside from a few scratch tickets and a visit with his family to a casino in Cripple Creek, Colo., Crosby said he is not a gambler…"
Cedric Cromwell, the leader of the Mashpee Wampanoag Indian tribe who has aggressively lobbied for Massachusetts casinos
this Boston Magazine excerpt
from December 2011: "I'm not a gambling man." Casinos aren't really Cromwell's thing — actually, risk isn't his thing. "When I walk across the street, I try to make sure that there are not too many cars," he says. "I'm a business person and a leader of a tribal nation."
Tim Cahill, former Massachusetts State Treasurer (2003-2010) and a relentless advocate for casinos and the Mass Lottery
Boston Globe
columnist Kevin Cullen in
this Sept. 24, 2007 story:
"I don't gamble," Tim Cahill said. "I never have."
Tony Amico, owner of Ted's Stateline Mobil, the number one lottery retailer in Massachusetts
The Boston Globe
,
April 21, 2008: Ted's Stateline Mobil is the King Kong of Massachusetts Lottery agents. The store sold $12.6 million worth of lottery tickets in 2007, millions more than any of the other 7,500 or so bars, restaurants, and convenience stores that sell lottery tickets in the state. Owners Ted and Tony Amico earned a staggering $625,000 on the standard 5 percent commission lottery agents receive for all lottery ticket sales, not including a 1 percent commission on all his customers' winnings. The average store owner made about $37,000. As for Tony Amico, he said he does not play the lottery much.  When he was a bartender, he said, he didn't drink, either. "Once in a while, when the jackpot's really big, I buy a ticket like everybody else," he said. "That's it."
Texas State Sen. Rodney Ellis, a long-time promoter of predatory gambling in his state
The Wall Street Journal,
March 2, 2009: "Mr. Ellis said he doesn't gamble, but that a lot of his constituents do -- and he doesn't want them spending that cash in neighboring Louisiana or New Mexico."
Texas State Senator Juan "Chuy" Hinojosa
Maryland State Sen. James N. Robey
The Baltimore Sun reported
on August 24, 2008: "I'm not a gambler, but I'm a realist," said Robey, a former county executive and police chief.
Narragansett Chief Sachem Matthew Thomas, a tribal leader in Rhode Island who has been a longtime advocate for casinos in that state
a column
written by
The Providence Journal's
M. Charles Bakst, May 13, 2004: Does he patronize casinos? Rarely. "I'm not a big gambler."
Mayor Irene Elia of Niagara Falls, NY, (2000-2003), a casino supporter for her region
As mayor, Elia supported casinos but she did not gamble herself.  According to a story in
The Rochester Democrat and Chronicle
written by Jim Memmott on Sunday June 24, 2001: "Mayor Irene Elia of Niagara Falls, a supporter of the casino, said she too, is concerned about possible impacts. "We have to monitor it -we have to make sure the casino has a positive impact." Elia added she is no gambler.