Taxation By Exploitation
Government Revenues from Predatory Gambling
A 2009 report by the
Rockefeller Institute of Government
concluded that predatory gambling worsens long term budgetary problems for states. Read the report below to see why states that institute predatory gambling as a means to stabilize the budget are deeply disappointed time and again:
"Income from casinos and lotteries does not tend to grow over time as rapidly as general tax revenue. Expenditures on education and other programs will generally grow more rapidly than gambling revenue over time. Thus, new gambling operations that are intended to pay for normal increases in general state spending add to, rather than ease, long-term budget imbalances."
2009-09-21-No_More_Jackpot Rockefeller Report
The Message of Government at the Time of "The Greatest Generation"
During the Great Depression, leaders like NYC Mayor Fiorello La Guardia (watch the brief news clip below) aggressively went after those who preyed on the financial struggles of his city's working class. What we now call "The Greatest Generation" challenged citizens to help make America and their families stronger by buying government savings bonds. Today, the daily voice of government to most citizens during the worst economic crisis since then is casinos and state lotteries. After forty years, it's time government pulled out of the predatory gambling business because it is a failed policy. The video is part of a "25 years ago today" UN newsreel story issued September 24, 1959.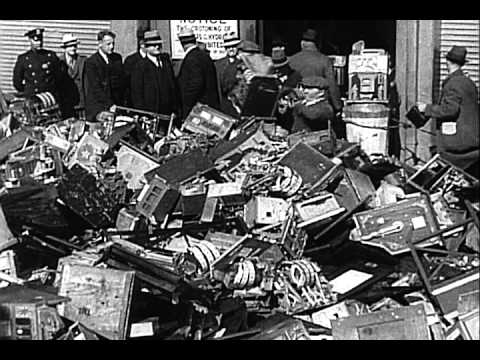 Lotteries Generate More Revenue Than Corporate Income Taxes in Some States
In this Reuters opinion piece, David Cay Johnston examines the shift in 11 states that shows, lotteries, the most heavily taxed consumer product in America, generate more revenue than state corporate income taxes. For example, the Rhode Island Lottery netted the state more than $3 for each dollar of state corporate income tax in fiscal 2009. Johnston also spotlights how the increasing trend toward easy reliance on lotteries has not translated to increased revenue for states.
U.S. Lotteries and the State Taxman
Schools' slices of lottery pie small, getting smaller in Oklahoma
With more than 500 Oklahoma school districts vying for their cut of the funds and only 35 percent of gross proceeds going to education, the lottery pie gets sliced hundreds of different times before an individual school district sees its portion. The result: The amount in lottery funds sent to individual school districts in Oklahoma has been relatively small. Read below to learn more how the Oklahoma Lottery has (not surprisingly) failed to fund education in the way proponents had promised citizens.
Schools' slice of lottery pie small, getting smaller
Uncertain Benefits, Hidden Costs: The Perils of State-Sponsored Gambling
The recent fiscal downturn forced cash-strapped, tax-averse state lawmakers to seek unconventional revenue- raising alternatives, for additional revenue-raising opportunities outside of the income, sales and property taxes that form the backbone of most state tax systems. One of the most popular alternatives to those major revenue sources is state-sponsored gambling. As this policy brief points out, however, gambling revenues are rarely as lucrative, or as long-lasting, as supporters claim.
Institute for Tax Policy Brief
CA lottery provides disappointing education funding
Despite the promises from gambling promoters it would fund public education if passed, this
Los Angeles Times
story reveals the California Lottery provides
only 1.3% of the state's entire education budget. 
This shows, once again, that the claims casino supporters routinely trot out are unsubstantiated and are proven falsehoods.
California Lottery funding generally makes up 1.3% of the state education budget
The Poor Disproportionately Affected by Problem Gambling
A study by the University at Buffalo Research Institute on Addictions shows that our nation's poorest citizen are also those who problem gambling hits the hardest. Those living in poor neighborhoods are over twice as likely to have a gambling addiction than their counterparts in a more affluent community.
People in poor neighborhoods are twice as likely to have gambling problems
Addicts make up nearly 50% of Alberta's gambling revenue
A study from the University of Lethbridge shows that in Alberta, the Canadian province that gets the most revenue from gambling, addicts fund nearly half of the gambling profits. This is especially astounding, considering gambling addicts make up only 2-3% of the population, leading to what researchers call an "ethically problematic" situation.
2013 Addicts fund nearly half of gambling revenue
The link between poverty and lottery sales is undeniable, according to article
This article by
The Hartford Courant,
written in response to a taxpayer-funded study that concluded no link between poverty and lottery sales, presents the findings of several other studies that have time and again found an irrefutable link between poverty and lottery sales, and poverty and gambling addiction. The author offers insightful comments on these many past studies that have found this strong link and finds the faults in the one study that has concluded otherwise.
2009 Want False Hope With That Lottery Ticket