Debt Culture and Poverty
For more information about how predatory gambling impacts low-income citizens, please also visit our
Lotteries: Who Really Plays section.
The Message of Government at the Time of "The Greatest Generation"
During the Great Depression, leaders like NYC Mayor Fiorello La Guardia (watch the brief news clip below) aggressively went after those who preyed on the financial struggles of his city's working class. What we now call "The Greatest Generation" challenged citizens to help make America and their families stronger by buying government savings bonds. Today, the daily voice of government to most citizens during the worst economic crisis since then is casinos and state lotteries. After forty years, it's time government pulled out of the predatory gambling business because it is a failed policy. The video is part of a "25 years ago today" UN newsreel story issued September 24, 1959.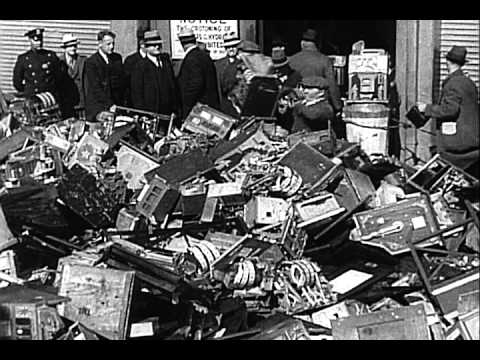 Survey: 21% Say Lottery is Most Practical Path to Wealth
According to the survey of 1,000 Americans by Opinion Research Corporation for the Consumer Federation of America and the Financial Planning Association, 21% of Americans believed that the lottery would be their most effective and practical strategy for accumulating several hundred thousand dollars. This percentage in addition, was higher among lower-income individuals, with 38% of those who earn less than $25,000 pointing to the lottery as a solution.
Survey- 21 percent say lottery is most practical path to wealth
A Nation in Debt: How We Killed Thrift, Enthroned Loan Sharks and Undermined American Prosperity
This essay written by Barbara Dafoe Whitehead appeared in the July/August 2008 issue of
The American Interest
. It is excerpted and adapted from
For a New Thrift: Confronting the Debt Culture,
a report released in May 2008 by the Commission on Thrift. Whitehead exposes how anti-thrift institutions like
state lotteries, casinos,
payday lenders and credit card companies hinder the average American's ability to save their earnings and get ahead financially. These institutions have been the main contributors to the growing amount of consumer debt accumulated in recent decades. Whitehead calls on the public to reform these institutions and to advocate for a culture based on saving and wealth-building.
Whitehead - A Nation in Debt
Exploiting the Working Poor
In 2010, the Lehigh Valley Research Consortium released a report showing that 48 percent of those below the poverty line in the Lehigh Valley intend to gamble at the Sands Casino in Bethlehem, Pennsylvania. ''The casino ads always show young glamorous-looking people gambling,'' said Michele Moser Deegan, a Muhlenberg College associate professor who directs the consortium. ''But when you go inside, you can see that it really is the working poor and middle class. This survey shows that.''
GAMBLING_REPORT_2010_final
Bankruptcy Rates: A County Level Analysis
At Creighton University, Ernie Goss, Professor of Economics and Edward Morse, Professor of Law, used bankruptcy information to compare the roughly 250 U.S. counties with commercial or Indian casinos. "Our regression analysis on matched-pair counties indicates that those counties that legalized casino gambling during the 1990s experienced a cumulative growth rate in individual bankruptcies that was more than double the growth rate for corresponding non-casino counties."
The Impact of Casino Gambling on Bankruptcy Rates - A County Level Analysis
The Impact of Casino Gambling on Personal Bankruptcy Filing Rates
John M. Barron, Dept. of Economics at Purdue University; Michael E Staten of the McDonough School of Business at Georgetown University, Washington D.C. and Stephanie M. Wilshusen Georgetown looked at larger market areas and determined, "Our analysis predicts an 8% decline in 1998 filing rates for casino and collar counties, and a 1.4% decline in filing rates nationwide if one were to eliminate casino gambling."
The Impact of Casino Gambling on Personal Bankruptcy Filing Rates
Poor People Spend 9% of Income on Lottery Tickets
This blog post from
WalletPop.com
outlines the reasons why people on low-incomes spend so much on lottery tickets: the hype about big jackpots, the ritual of playing and the fact that many people believe that playing the lottery is best way to achieve financial security.
Poor People Spend 9 Percent of Income on Lottery Tickets
Poverty and Casino Gambling in Buffalo
In January 2011, the Partnership for the Public Good in Buffalo, New York published this policy brief which examines how the Buffalo Creek Casino exacerbates the city's urban poverty crisis.
Poverty and Casino Gambling in Buffalo
Atlantic City Looks To Bus More Homeless Back Home
When predatory gambling interests come to your town or city, they falsely promise new jobs, revenue, and overall economic prosperity. However, the story below highlights the dark side of the industry. Beyond the glitz and glamor of Atlantic City's multi-million dollar casinos, hundreds of homeless people are on the street with no place to go.
Atlantic City Looks To Bus More Homeless Back Home
Thrift or Debt: Which Direction is Right for Texas?
The Texas Thrift Coalition is a nonpartisan, volunteer group of leaders and organizations whose goal is to promote thrift and encourage savings as a path to family prosperity in Texas. In 2011, the group published
Thrift or Debt: Which Direction is Right for Texas?
which found: Texas families face a savings crisis; anti-thrift institutions are trapping Texas families in debt; Texans see a danger in the rise of the anti-thrifts; Texans oppose the expansion of state-sponsored gambling; and Texans want to save more. The coalition issued the following recommendations:
To Oppose Debt
close payday lenders' "lucrative loophole"
protect military families from payday lenders
vote "no" on casino gambling
To Support Thrift
to create a Texas "Savings Ticket"
promote alternatives to payday lenders
bring back national thrift week
Thrift or Debt - An Appeal to the Texas Legislature From the Texas Thrift Coalition
The Unusual World of Casino Debt Collection
Casinos often give out loans (or "markers" as they are known) to players in need of cash. To keep them coming back, casinos generally charge an interest rate of 0% and give players several months to repay loans that can run into the hundreds of thousands of dollars. But when players can't pay the loans back, casinos send a demand letter and can refer the case to the local District Attorney's office bad check unit which prosecutes such crimes. Sometimes casinos file a civil suit as well. In addition, casinos (like other debt collection agencies) do not have to abide by regulations of the Fair Debt Collection Practices Act.
SPG Memo - Casinos and Debt Collection
Lotteries Generate More Revenue Than Corporate Income Taxes in Some States
In this Reuters opinion piece, David Cay Johnston examines the shift in 11 states that shows, lotteries, the most heavily taxed consumer product in America, generate more revenue than state corporate income taxes. For example, the Rhode Island Lottery netted the state more than $3 for each dollar of state corporate income tax in fiscal 2009. Johnston also spotlights how the increasing trend toward easy reliance on lotteries has not translated to increased revenue for states.
U.S. Lotteries and the State Taxman
The Poor Disproportionately Affected by Problem Gambling
A study by the University at Buffalo Research Institute on Addictions shows that our nation's poorest citizen are also those who problem gambling hits the hardest. Those living in poor neighborhoods are over twice as likely to have a gambling addiction than their counterparts in a more affluent community.
People in poor neighborhoods are twice as likely to have gambling problems
New Report Shows How Casinos Affect Seniors
Senior citizens are becoming more and more prone to problem gambling due to casinos, according to a new report by the Institute for American Values. Seniors are particularly vulnerable to slots and similar electronic games, some of the most highly addictive and highly profitable for casinos.
seniors-in-casino-land
Lotteries hurt winners, losers, and their communities
Lotteries hurt those who win, those who lose, and their surrounding communities, as explained in this article from
ThinkProgress.org
. Those who win face problems such as drugs, bankruptcy, and familial tensions, those who lose deal with crippling poverty, and their surrounding areas tend to spend less and less on education.
2013 How Lotteries Are Bad For Players
The issue of dischargeability of gambling debt grows in importance
With the increasing pervasiveness of government-sponsored gambling, the issue of the dischargeability of gambling debt has become very significant. The attached report by two U.S. Trustees of Indiana highlights several major problems including how one research group suggests that about 10 percent of bankruptcy filings are linked to gambling losses, 20 percent or more of compulsive gamblers are forced to file bankruptcy because of their losses, and upwards of 90 percent of compulsive gamblers use their credit cards to gamble.
GAMBLING ON DISCHARGEABILITY: Casino debt collection practices
The rise of penny slots
The name "penny slot" implies that these machines are essentially harmless- after all, what use is there for one penny? However, these machines, which are rapidly growing in popularity, garner huge profits for casinos at the expense of players. These machines attract mainly lower-income players, lured by the idea that one penny can net them some extra cash. Most "penny slots" actually require you pay more than 1 cent per play, with some requiring 25 or 50 cents, and others requiring bets of over $1. Players put more than $500 million into penny slots in January alone, and given the high profits they give to casino owners, casinos are starting to install more and more of them. This article, from the
Press of Atlantic City
shows how one penny can cost gamblers a lot more than you might think.
2014 Penny slots are popular, flexible and profitable
Study examines the link between homelessness and problem gambling
Researchers at the University of Cambridge in England have found that homeless people are ten times more likely to be problem gamblers than non-homeless people. While many studies have been done examining the link between homelessness and alcohol or drug usage, this is one of the first to consider how homelessness affects one's propensity to have a gambling addiction. This article summarizes the study's findings.
2014 New study reveals scale of problem gambling among homeless population
Casinos don't mess around when it comes to collecting debts
When it comes to gambling, many people simply lose more than they can afford. In those cases, people with very little face large debts that climb as they continue to lose. However, Foxwoods and Mohegan Sun casinos don't play around regarding paying back your gambling debts. The two casinos have taken to putting liens on people's homes that owe money to the casino. These debts come from the casino lending players money who have run out of the cash in their pockets. They give these players extra cash that the players inevitably lose back to them, and then demand to be paid back for the money they lent. It's a vicious circle that is leaving many people's homes vulnerable. These two articles from
WPRI (RI)
and
The Boston Globe
describe the situation.
2014 CT casinos employ hardball tactic to collect debts
2014 CT casinos place liens on RI homes to recover debt
How free-play cards can be as addictive as gambling itself
A bus ride to a casino in the New York/Pennsylvania area is often accompanied by a free-play card, worth around $15-$45 of free play in a surrounding casino. This is meant to draw bus riders into the casinos, however, for some poor New Yorkers, this is a way of life. Many New Yorkers, either homeless or unemployed and looking to make ends meet, spend their days riding buses and collecting free-play cards only to lose that free cash at the casinos and ride another bus with another free-play card to another casino, and so on. This vicious cycle leaves these players constantly chasing these cards, as it is their only source of money. This article below, by 
The Morning Call
, details why some bus-hoppers say card-chasing can be as addictive as the gambling these cards enable.
2014 Sands Bethlehem casino bus-hoppers beat odds using free money
Casinos in Atlantic City have failed the African-American community
This article from 
The Grio
outlines why the casino industry in Atlantic City have proved a detriment, not an aid, to the African-American community in the city. For years, the city government has served the needs of the casinos in a desperate attempt to save their falling revenues, ignoring the city's many African-American workers, and leaving them behind. Casinos came to the city because they were the supposed savior of the city's financial problems, however the African-American community can attest that in its wake, the casino industry has decimated the city, leaving it on the financial respirator, and on its last limb.
2014 How Atlantic City's promise failed its black community
Why casinos won't help failing cities
This article from 
The Atlantic 
explains why cities that have fallen on hard economic times and are looking to casinos to save them are making a huge mistake. Casinos foster addiction and profit off of those who fall into that addiction, with problem gamblers making a up a widely disproportionate percentage of casino revenue when compared to their percentage of the population. Furthermore, unlike a sports stadium, for example, which raises revenues for surrounding businesses, casinos suck revenue out of the surrounding businesses because they bring players into the casino and they often don't leave until they've lost more money than they wanted to spend, hindering the city's ability to pull itself out from economic trouble. These reasons among many others are highlighted in the story below.
2014 A Good Way to Wreck a Local Economy- Build Casinos
Kentucky Poverty Rankings: a simple analysis you can do
The following data comes from
www.statehealthfacts.kff.org
. This is the Henry J, Kaiser Family Foundation website which contains a variety of health facts for the states. For context there are several demographic comparisons as well. I have selected some that reveal Kentucky's status as a midsize state that is mired in poverty. Kentucky's population is 4,115,700 which ranked 23
rd
, up two places since 2007 when it was 25
th
. The gross state product has been increasing to $183,273,000,000 which ranks 27
th
, which despite increasing has slipped down one place. This is quite good for a state that has sizable numbers living in poverty. The percentage living in poverty is 20% with only four states ranking lower: Louisiana, Arizona, Mississippi and West Virginia. This continues Kentucky' slide: from 34th in 2000 to 40th in 2007 to 46
th
currently. The percentage below twice the poverty level, called low income, is 19% which when combines leads to 39% with low income or living in poverty, ranking ahead of only Arizona, Arkansas, Louisiana, Mississippi, New Mexico and West Virginia. As would be expected the number in poverty and low income leads to a median household income of $42,786 above only four states. The division between the wealthy and the poor is greater than in nearly all the other states. A good percentage of Kentuckians are employed (only 5% not employed), high enough to rank 22
nd
, but at lower wages. Less favorably, the state budget shortfall of $37,000,000 in 2013 also ranked as 22
nd
highest. Another symptom of poverty was that the amount spent on healthcare, despite low wages, was $28,948,000,000 which ranked 26
th
and was up $6 billion since 2007, and was more than the state budget. Total enrollment in Medicaid and CHIP programs was 606,805, down 237,000 since 2007, and which ranked 27
th
highest. This would be considered good news since Kentucky was 23
rd
highest in 2007. You can do the same analysis for your state with the
www.statehealthfacts.kff.org
website. I did have the benefit of doing this in 2007 and could thus compare and see the change. The most basic change in the Kentucky picture is the introduction of three casinos operating with Instant Racing Machines. The courts have let the case against their legality roll on for five years removing hundreds of millions from the functioning economy and placing it is the hands of the tracks and wealthy horse owners.
Why Sheldon Adelson Opposes DFS
Sheldon Adelson is the owner of the largest gambling empire in Las Vegas, the Sands. He is the main mover behind the $1.9 billion football stadium planned for Las Vegas and the move of the Oakland Raiders to Las Vegas. While he makes his money extracting money from casino players, he sees a difference between what he does and the exploitation of the young and the poor through DFS games. He is opposed to legalizing them and he claims that his opposition is not just based on not wanting the competition. Nevada recently determined that DFS is gambling, did not outlaw it, but required that providers of DFS must seek a gambling license. Most DFS companies will not do that because they claim they are not providing gambling. One small vendor has applied for a license and has opened lounges in a few Vegas casinos. But, effectively DFS is banned from Nevada. Adelson is temporarily satisfied with Nevada's action because he believes that DFS is immoral, preying upon the poor and the young. Adelson differentiates his own predatory gambling as being upon the wealthy an middle class who go to Las Vegas to gamble and for whom the casino can refuse to serve them if they are exhibiting signs of getting too deeply engrossed in the games. The distinction between a predatory casino and a predatory DFS provider may seem vague to most of us, but to Adelson the distinction between what he regards as controlled gambling and gambling without controls on who loses and how much, is a difference between a moral business and an immoral one. This author disagrees. Twenty-eight NFL teams have cut deals with Draft Kings or Fan Duels. Adelson says the league is involved with gambling already. The claim that DFS is not gambling is fallacious. DFS makes everyone with a cell phone a potential gambler, and a potential addict. Adelson views that as immoral because of the access to the poor and the young because the DFS sites cannot card their patrons. When asked if he would provide lounges for DFS players in his casinos as some Las Vegas casinos have done for a share of the profits, he replied, "NEVER!"
https://ca.finance.yahoo.com/news/exclusive-why-sheldon-adelson-is-against-daly-fantasy-sports
   Daniel Roberts, September 9, 2016.