Corruption: "Pay to Prey"
Casino Interests are the Most Powerful Political Force in America Today
Six out of ten of the top funders of political causes nationwide are casino interests, according to analysis of the 2007 and 2008 cycle by the Center for Responsive Politics  For more information about how much money gambling interests spend to influence our political process, please visit the Center for Responsive Politics at
OpenSecrets.org
and see their Influence and Lobbying section as well as their National Donor Profiles section.
"Let Us Buy the Vote!"
The massive expansion of predatory gambling over the last twenty years came as the result of gambling interests spending hundreds of millions of dollars under the guise of "Let the People Vote." What they really meant was "Let Us Buy the Vote!" In 2008, nine states considered whether to replace declining revenues with money from predatory gambling. "Never a Sure Bet," a report from the National Institute on Money in State Politics, examines the money behind these ballot measures. Gambling proponents significantly outraised opponents in each of the states they were successful in, ranging from about 2 to 1 in California to 1,734 to 1 in Colorado. An examination of the business sectors behind the measures shows that Indian casino tribes gave $157.4 million, more than half (57 percent) of all the money. Non-tribal gambling interests were the next-largest donors, giving $104.5 million (38 percent). Combined, these interests gave 96 percent of all money raised around the measures.
Never A Sure Bet Report from National Institute on Money in State Politics
Alabama Gambling Bribery Scandal
In October of 2010, the U.S. Department of Justice indicted eleven people in Alabama accused of involvement in a gambling vote-buying scandal. The Justice Department unveiled an indictment accusing the owners of two of Alabama's largest casinos, four state senators and several lobbyists of a scheme to buy and sell votes in the Legislature. One defendant has pleaded guilty to offering a senator $2 million to vote for a bill to keep the state's bingo machines operating. Below is a press release from the Justice Department, a copy of the indictment and a list of those indicted.
U.S. DOJ Press Release Alabama Gambling Vote Buying
Alabama Gambling Vote Buying Indictment
List of Indictments in AL Gambling Vote Buying Case
Predatory Gambling Has More of a History of Corruption Than Any Other Business
In the wake of the October 2010 indictments of four State Senators, Gary Palmer of the Alabama Policy Institute wrote about the historical connection between the legalization of gambling and government corruption. He quotes former U.S. Senator Paul Simon of Illinois who declared predatory gambling "...has more of a history of corruption than any other industry."
Alabama Policy Institute - Elections or Indictments
Corruption at Pennsylvania Gaming Control Board
In a scathing 102-page report, a state grand jury in May 2011 slammed the Pennsylvania Gaming Control Board as a patronage-filled, secretive agency that failed to safeguard the public by inadequately investigating casino operators and vendors, and succumbing to political pressure.
Pennsylvania Gaming Control Board Grand Jury Report
Behind an Army of Lobbyists, an Instant Force in Gambling
In this New York Times Article released in January of 2012, the author discusses the large lobbying presence of gambling interests and how those interests can affect legislation.  Genting Berhad, for example, is a well-known lobbying firm led by KT Lim who represents gambling interests, and the article shows the effects of their huge investments in New York State's expanded gambling industry.
Behind an Army of Lobbyists, an Instant Force in Gambling
Ralph Nader on why casinos are the wrong direction for America
The nation's most respected consumer advocate, Ralph Nader, speaks powerfully about why government's experiment with casinos is a failure and why we need to stop it.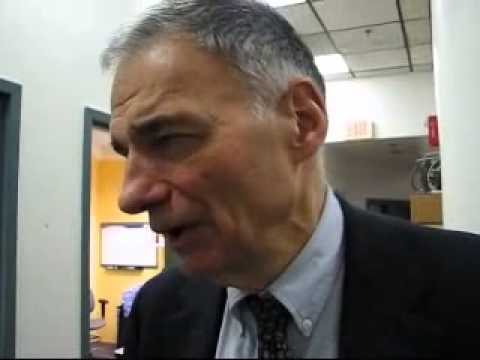 Duty of care from the casino side
Though written from a gambling industry bias, Kelly and Igelman (2009) examine some of the intriguing cases involving "duty of care." Perhaps with the exception of undisclosed out-of-court settlements, casinos and other gambling businesses have largely avoided the setting of legal precedents that could be used in lawsuits by people whose lives have been ruined by gambling's products. Their article explores "self-exclusion," contending the entire weight of responsibility for enforcing such exclusions belongs with the gambler and little or none with the provider of gambling products. In many cases, gamblers who have excluded themselves continue to receive enticements from casinos. When those gamblers "relapse," the gambling businesses continue to take their money, but if the excluded gambler wins large, the casinos refuse to pay, based on the exclusion agreement. (Author Joseph M Kelly is co-editor of the
Gambling Law Review and Economics
journal that published the article. The other co-editor is I. Nelson Rose, perhaps the nation's leading legal advocate for gambling interests. Kelly is the former consultant to Antigua, an advocate for Internet gambling. The review's co-author, Alex Igelman, is an attorney whose LinkedIn profile notes he is special consultant to the Stonarch Group, one of America's largest horse racing operations, and one expanding into other gambling interests.)
Kelly and Igelman Casinos and the Duty of Care
Legalization of casino gambling leads to corruption
A new report is out showing that legalizing casino gambling in states results in higher rates of public corruption. Casinos help create a "culture of corruption" in states in which they are legalized, which harms the community as a whole. Here you can find a summary of the report done by the
Pew Research Center
as well as the report itself.
2013 For states, gambling on casinos may be a bad bet
2013 Casinos and Political Corruption in the United States
Gambling interests spend big bucks on NY lawmakers
According to a report by the Common Cause NY, gambling interests have spared no expense courting New York lawmakers, spending $20 million over the past 2 years on lobbying and campaign contributions for various offices, including almost a quarter a million dollars to New York Governor Andrew Cuomo's campaign. The spending comes on the heels of Cuomo's announcement that New York will be looking to expand casino gambling in the state. This article, by
Newsday,
summarizes the developments quite well.
2013 Gambling interests spent $20 million on NY lawmakers in 2 years, Common Cause finds
Report finds link between casino gambling and corruption in states
A report by two economists from the Pew Research Center surveyed political corruption before and after the legalization of casino gambling in states and found that corruption tends to rise when casino gambling is legalized and casinos begin to operate. The report gives two theories as to why this is. First, the economists report casinos tend to open up in states with a "culture of corruption" already established . They also report that the casino industry and casino interests are able to obtain the legislative results they want in a way that is "perhaps tainted by corruption". This article from
Al.com
summarized the report's findings.
2013 Mississippi leads nation in corruption when linked to legalization of gambling
PA's failure to limit campaign contributions allows gambling interests to buy their way to legislative victory
This study by the
Common Cause
show the growing influence of money in Pennsylvania politics, especially from gambling interests, due to the state's lack of limits on campaign contributions. Gambling interests with essentially limitless sums of money can thus buy their way to influence and power over Pennsylvania lawmakers.
Payout in PA
Influence of gambling interests in IL grows due to lack of strong regulation
This study by the
Common Cause
details the growing influence  of gambling interests in Illinois. Illinois is one of the few states without a limit on campaign contributions, so deep-pocketed lobbyists and special-interest groups, especially the gambling industry, can use their exorbitant amounts of money to exert influence over Illinois legislators.
Payout--Gambling Study by Common Cause Illinois
More and more "perks" added to try and trick MA citizens into supporting casinos
With a huge referendum vote coming in Massachusetts on casinos in November, casinos and their supporters are pushing harder than ever to trick citizens into supporting them. This article from the
Concord Monitor
explains the recent attempts by legislators in support of casinos to put more provisions in the casino law that make it seem like more money would be given to communities. However, when it comes down to it, these are just proverbial carrots being waved in citizens' faces to make them support a policy that will, in the end, harm the community.
2013 In Massachusetts, casinos provide jobs, taxes, child care and skating rinks
Through charitable donations, casinos attempt to buy the silence of community nonprofits
In their never-ending attempt to lure voters into believing that they are good for communities, casinos have begun to trot out charitable donations are evidence of their commitment to community. As usual, these claims are merely used to generate public goodwill, and are all in an attempt to make voters overlook the damage casinos have done time and again to their surrounding communities. This article from
Nonprofit Quarterly
takes the mask off this phony policy.
2013 It's a Gamble- Casinos Offering Charitable Donations to Woo Voter Support
Casino owners create image of a "community partner" to insulate themselves from the harm they inflict on citizens
When it comes to buying good will from the community and luring voters to support casinos in their city, casino interests use a multitude of methods to make themselves appear as if they are some kind of local charitable foundation. In this instance, the casino interests in Springfield, MA used tactics such as handing out diapers to citizens and sponsoring community pancake breakfasts to convince voters to support them, creating their own political machine with virtually no spending limit.
2013 Casino Operators Offer Pancakes, Diapers in Springfield
Casino campaign groups are not what they seem
Everett United is a pro-casino group located in Everett, MA that paints itself as a grassroots organization, a group of citizens, that supports casinos. However, recent campaign filings show this "grassroots" group is funded largely by Steve Wynn, a casino mogul, who has pumped money into the group to support the cause. This seems to invalidate the idea that this is a grassroots organization, as it is being propped up by casino interests. Due to campaign finance laws, we can't see how much Wynn has donated until later on, but many believe it is no small sum.
In Everett, as in Eastie, casino campaign groups are not what they seem